While home prices and sales have gone down across Canada, buying a new home is still unattainable for many hopeful buyers, for a number of reasons.
Not only has the Bank of Canada's ongoing interest rate hikes and steep stress test requirements made it harder for many would-be buyers to qualify for a mortgage, existing homeowners are grappling with increased debt servicing costs, as variable-rate mortgage payments have soared.
But if that wasn't enough to make the Canadian dream of purchasing a home a distant memory, data from online mortgage brokerage service Ratehub.ca has found that the required income now needed to purchase a property has increased in nine out of 10 major markets, compared to January 2022.
This comes amid reports of deep year-over-year declines in home prices, while large increases to both fixed and variable mortgage rates have outweighed any price relief buyers may have otherwise enjoyed.
The report, which compiled January 2023 data from the Canadian Real Estate Association (CREA), allowed Ratehub.ca to calculate the minimum annual income required to buy a home in Canada's major cities, including changes to mortgage rates, stress test rates, and real estate prices.
According to the report, homebuyers will have to earn between $5,750 and $25,500 in extra income annually to buy a home in at least nine out of 10 major Canadian cities.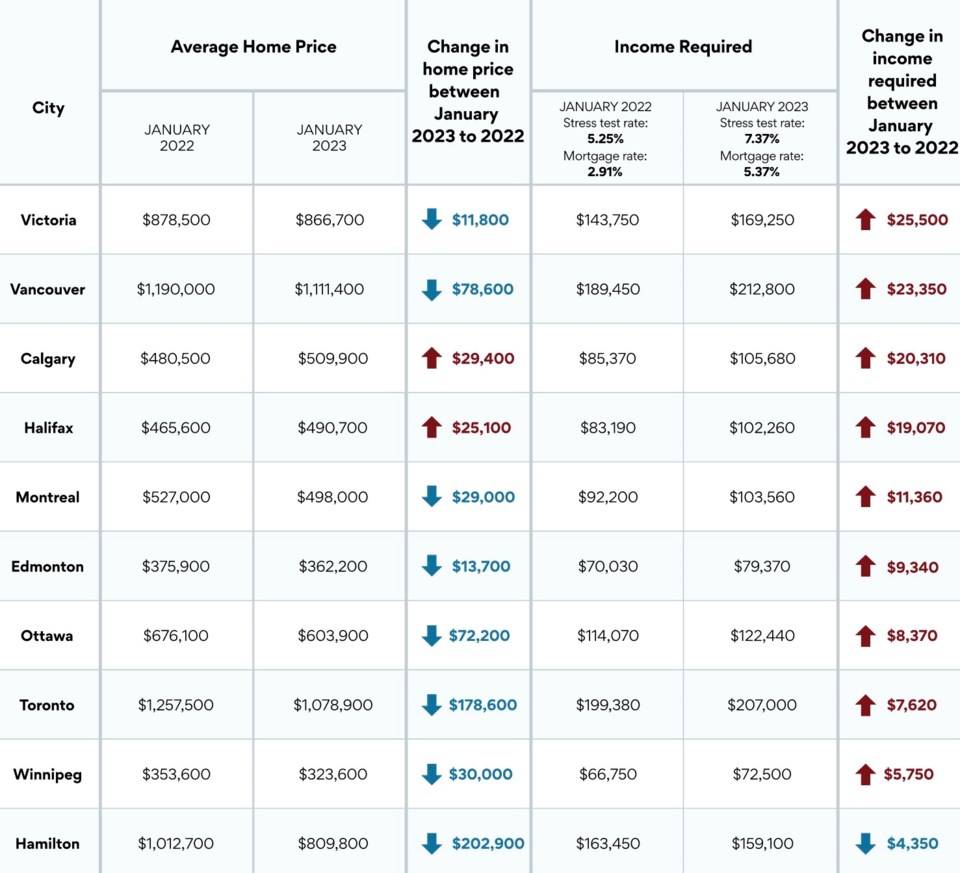 The data revealed the city that has seen affordability erode the most is Victoria, where homebuyers need to earn an extra income of $25,500 yearly, even though home prices during the studied period have gone down by $11,800 in the city.
The only city to see affordability improve was the City of Hamilton, where buyers need an average of $4,350 less income to afford a home. This is due to a drop in average price of $202,900, the largest annual decline of all cities, by a considerable margin.
Perhaps unsurprisingly, Vancouver was the major Canadian city in which residents needed the highest income, $212,800, to afford a home of average price ($1,111,400) in January 2023.
The City of Toronto followed close behind, with a necessary income of $207,000 required (an increase of $7,620), with homes costing an average of $1,078,900, which is down $178,600 from a year ago.
Here is the income required in each of the 10 cities in order to be able to afford an average home in each market, according to Ratehub.ca's most recent analysis.
Vancouver: $212,800
Toronto: $207,000
Victoria: $169,250
Hamilton: $159,100
Ottawa: $122,440
Calgary: $105,680
Montreal: $103,560
Halifax: $102,260
Edmonton: $79,370
Winnipeg: $72,500
The main reason for the disparity between cities is a stronger stress test and higher interest rates.
"Home prices are down, but affordability is worse than 12 months ago," said Ratehub.ca co-CEO James Laird in the report.
"With current fixed rates, the stress test is currently around 7.37 per cent, which is over 2 per cent higher than a year ago. The increase in rates is more material than the decrease in home values so far, which means homes are less affordable in nine out of 10 of the cities we looked at compared to a year ago."