Calling all movie lovers - are you looking for a fun way to spend your Saturdays with your family this month? If you've been waiting for a great deal to catch up on some family-friendly films on the big screen, your wait is over because Cineplex Canada is offering a fantastic deal this March.
Starting Saturday, March 4th, Cineplex locations across Canada will be screening family movies for just $2.99 per ticket. Yes, you read that right - only $2.99 for a movie ticket!
This offer is valid every Saturday morning at 11 am. What's even better is that you can choose from a range of popular family movies that are sure to entertain both kids and adults. From animated adventures to heartwarming stories, there's something for everyone.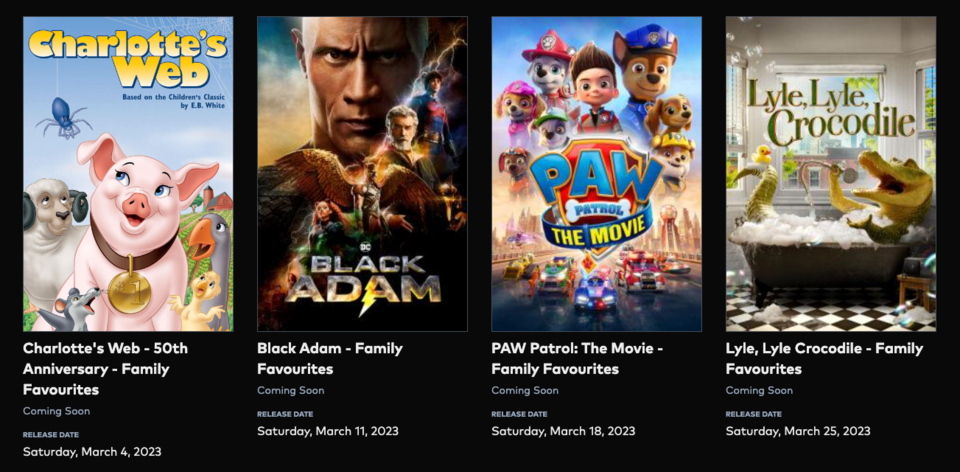 The movies that you can catch during this deal include:
Saturday, March 4th: Charlotte's Web – 50th Anniversary
Saturday, March 11th: Black Adam
Saturday, March 18th: PAW Patrol: The Movie
Saturday, March 25th: Lyle, Lyle Crocodile
So gather up your family and friends, and head to your nearest Cineplex location to enjoy this amazing deal. Not only will you get to watch some great movies, but the little ones will also get to experience the excitement of watching them on the big screen.
The deal runs all month and a full listing of screening times and films is available on the official Cineplex website.
So, what are you waiting for? Grab your popcorn and get ready for some movie magic.