A small group of parents and concerned citizens lined a rural road outside Beating the Odds IBI and Development Services in Essa Township this morning after learning the facility is home to a registered sex offender.
Nottawasaga OPP took the rare step of issuing a "community safety advisory" on Monday, July 17 to inform residents that convicted sex offender Lauriston Charles Maloney "resides at and has regular access" to the facility, which serves as a child-care centre and camp that provides services to children with autism and other developmental delays. Maloney's wife runs the centre.
The large rural property, located northwest of Ivy on the 8th Line, includes a home as well as a large outbuilding, which protesters whose children attended Beating the Odds said served as one of the facilities for the camp.
Parents described it as being a bright space that was divided into different rooms and spaces for the children who attend.
Protesters also noted that a large sign with the name of the facility had been located on the front lawn as of yesterday, however it had been covered. On Wednesday morning, the sign had been removed entirely.
The protest was organized by Laureli Barrett, whose son attended the centre, until she pulled him out upon finding out the news on Monday evening.
Through her various social media accounts, Barrett organized the small protest outside the home Wednesday morning in the hopes of bringing attention to the issue to other parents whose children attend and who may not have seen the OPP alert.
The OPP says Maloney is a convicted sex offender with several prior convictions, which include "human trafficking of children."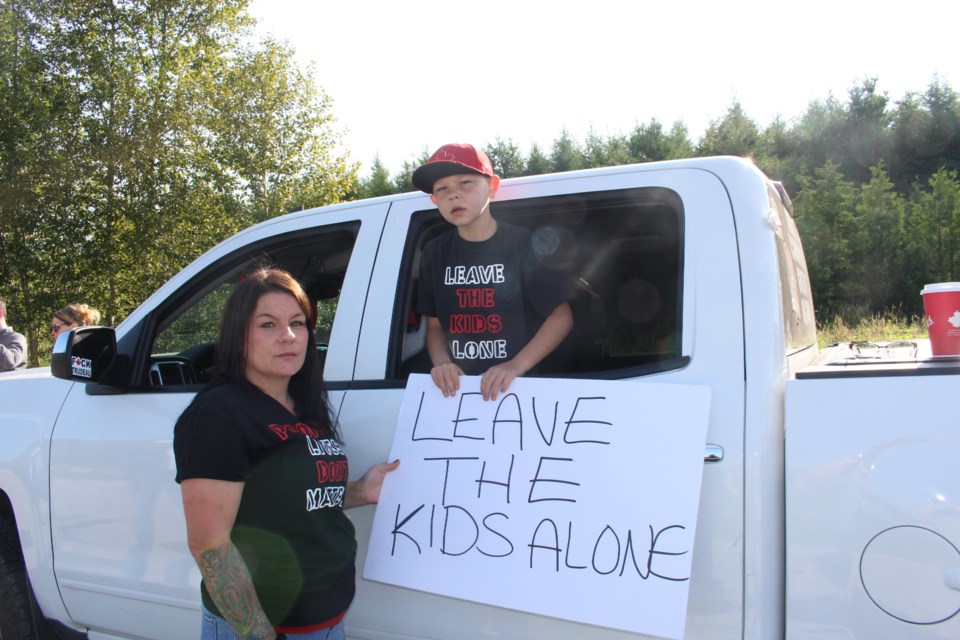 OPP Sgt. Jason Folz said the 42-year-old man was was convicted in Peel Region in 2004 and 2013 on 16 criminal charges. Those convictions placed him on the national and Ontario sex offender registry for life, Folz explained.
When asked why a convicted sex offender would be allowed to reside at a home involving children's services, Folz explained there was no order for Maloney not to associate with children under the age of 16.
"I don't believe that was issued at the time. Fast forward to now and we have moved jurisdictions, it becomes difficult to track and manage," the sergeant said. "That is part of this investigation in learning this section of the Criminal Code wasn't utilized, so he doesn't have the no contact order with anyone under the age of 16.
"That presents a problem," Folz added. "Our people did everything we could leading up to it and the last thing was we knew we needed to do one of these public advisories."
Attempts to reach the Maloneys for comment were not returned.
Typically, when a sex offender is released on probation or parole, Folz said the courts would issue an order that puts the individual on conditions that says they cannot be around people under 16 years of age, and are required to avoid parks or places those people are known to be.
"It is unusual we don't see that in this instance, but I don't know the reason why. Typically those are issued," he said.
Folz also said it's uncommon for police to issue that kind of advisory.
"We use them sparingly, because it does infringe on people's rights, but in this particular instance the public safety end of it is more important than his rights," he said. "Having parents who are informed and making informed decisions as to where they are sending their children to camp, especially vulnerable ones, I think was pretty important in the issuing of this notice.
"The camp is inside her residence, where he lives. To say he has access to it is an understatement. He lives there," Folz added.
"We really hold it for the worst of the worst. This isn't something we take lightly when we do something like this," he said. "There are a series of checks and balances in place for how we would determine if somebody (was a risk to re-offend). It's not arbitrary, I can tell you that."
Folz said he was uncertain how long Maloney has lived at the home.
Land registry records show that Lauriston Maloney and his wife, Amber-Lee Maloney, purchased the property on Feb. 4, 2022 for $2.8 million. There are two mortgages on the property, including $1.69 million with Computershare Trust Company of Canada and $390,000 with Nest Capital Mortgage Investment Corp.