Staff Sgt. Chris Maecker has been on the front lines in Collingwood since 1987, when he was hired by the mayor and sent to police college.
He is the last remaining police officer from the former Collingwood municipal police force, and will officially retire this week, ending his 35-year career in policing.
Maecker grew up in Kitchener and went to the University of Waterloo for a bachelor's degree in regional planning, but the goal was policing.
"I just wanted to do something that was different every day and be part of a team," said Maecker.
At the time, policing required a university bachelor's degree plus the regular Ontario Police College.
"It was a really tough job market, and they weren't hiring a lot," said Maecker, who applied to Toronto and Collingwood police forces.
A drive to Collingwood, however, made him realize his first choice was the small town and not the city.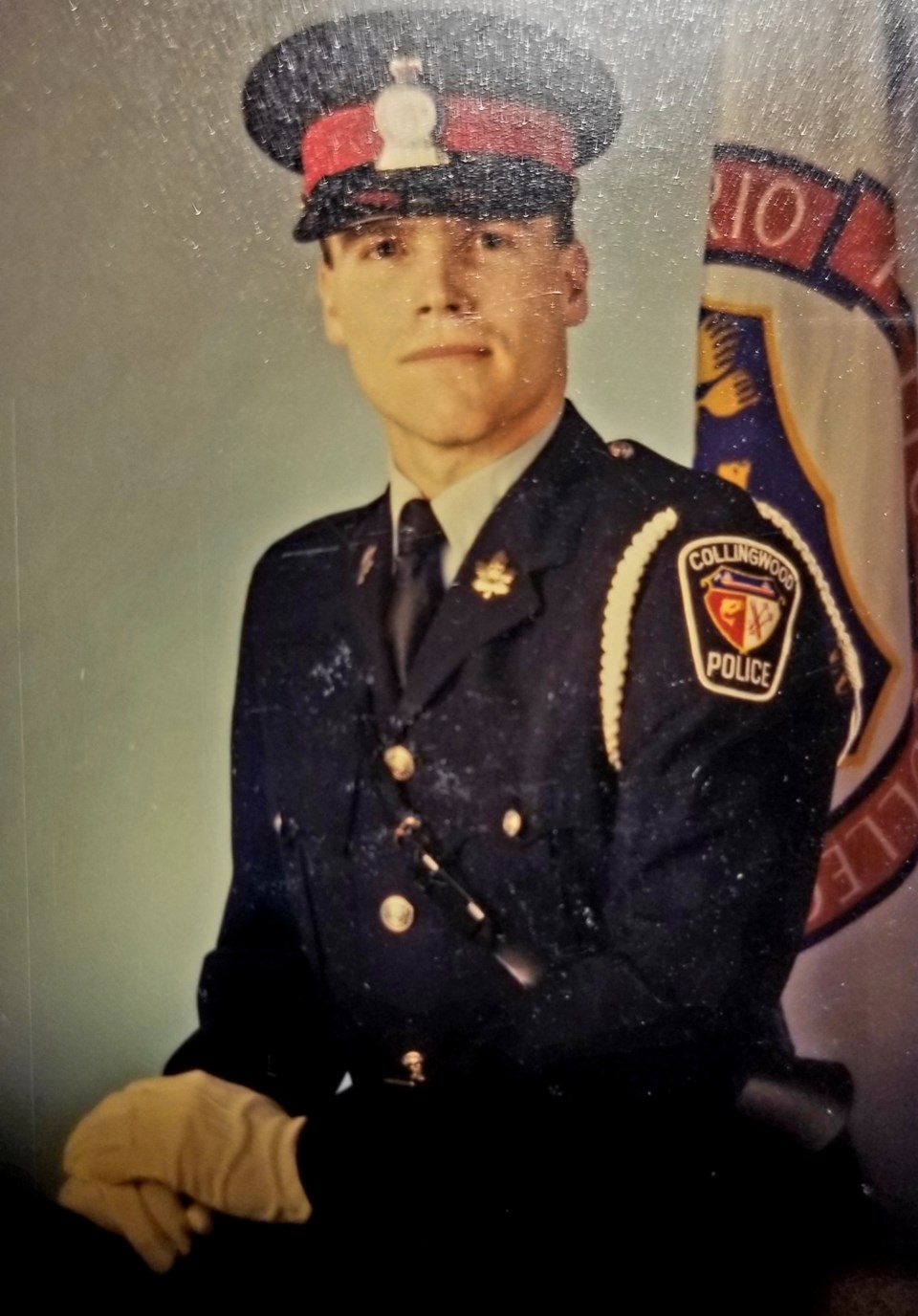 In 1987, Maecker accepted a job with the Collingwood municipal police force. The process included an interview with Ray Barker (deputy-mayor then mayor of Collingwood) and the chair of the police services board, Doug Garbutt. Maecker had to agree to certain conditions.
"I had to promise that I would live within 15 minutes of the town hall and I had to commit to extensive community service," said Maecker, noting he volunteered many weekends during town events, parades, and bike rodeos as an unpaid police officer.
He also had to stay within the top 10th percentile of graduates from Ontario Police College and he did it all for an annual salary of $17,000.
"I never even asked how much the salary was … but it was a job, and jobs were hard to come by in the late 80s," said Maecker.
While mandatory volunteer hours are no longer part of the job requirements, Maecker has fond memories of the early days of his career as the youngest member of the force and a new resident of Collingwood.
"You gave up a lot of your own time, but I really embraced that … it really made you a part of the community," said Maecker. "It kind of assimilated you into the community and you got to know everybody."
As the last officer from the Town of Collingwood's municipal police force to report for duty at 201 Ontario Street, Maecker said he had great role models and mentors in the force.
"Always the thing that stands out is the camaraderie with the officers and working together," he said. "When I started I really had no police experience … and so it's good to have that group around you."
Collingwood's police force included 25 officers, plus civilians running dispatch, all of which was done out of one side of the Ontario Street building that still serves as the local OPP station today.
For a while, Maecker said there would often be only two officers on duty for a night shift, and if there were two calls, each officer would be on their own responding to incidents.
"Things could get really busy on those nights. And if your partner was doing another call, you had to go to the domestic or the fight alone," said Maecker. "Again, you didn't know any better because that's the way it was."
He said Collingwood was already a busy town in the late 80s, and one struggling because of the closure of the shipyards and a bad economy that resulted in a lot of unemployment.
"The town was losing their jobs, they were losing their houses, and there was a lot of domestic unrest," said Maecker, adding he regularly had to go to calls at local bars like Mountain View Hotel, Jet North, Tremont, the pinball and pool halls, a local strip club, and other places where liquor was served late at night.
In 1998, the town force amalgamated into the Ontario Provincial Police, a move Maecker said was necessary because of changes to the Police Services Act.
"We probably couldn't have kept up our level of service," said Maecker. "You had to have things like a … tactical team and all these different things that were going to be well beyond our scope."
Soon after, the Collingwood OPP added The Blue Mountains to their coverage area.
"It opened a lot of doors," said Maecker, who joined an OPP emergency response team, which took him around the province for different high-profile cases such as homicides or missing persons, and to G20 and G8 summits to help cover protests. He said he also went out of province to Alberta and the Yukon for assignments.
"But I always came back to Collingwood," he said.
From 1998 to 2003 he was on the emergency response team and also served as the local high school officer at Collingwood Collegiate Institute and Jean Vanier Catholic High School, now called Our Lady of the Bay.
"That was probably the best job I ever had," said Maecker, noting he did consider a career in teaching before pursuing police work. "It was four years of working in the school and being the school resource officer and supporting staff and students there. I really, really enjoyed that and I'm actually really sorry to see that program fall by the wayside."
Of course, policing in Collingwood for 35 years has also brought its share of hard days.
"Certainly one of the things that stand out is the Debbie Timlock homicide," said Maecker.
Timlock was a 32-year-old single mother living in Collingwood who was murdered inside her home on June 19, 1989, just a couple of years into Maecker's career. The case remained a mystery for several months, but investigators found a squished tomato on her windowsill with a distinct sole imprint on it, and a pair of eyeglasses, which led them to a suspect.
James Brown, a man in his early 20s, was convicted of first-degree murder in 1992 and handed a life sentence.
Maecker also remembers missing person cases that took a long time to solve, and more recent homicides in Collingwood.
"We've had a real trend upwards," said Maecker. "A lot of them domestically related … certainly shocking."
Tragedies often remind Maecker of the other side of being part of a small community.
"It really takes a lot out of you … it is a marathon," said Maecker. "We're averaging 30 calls a shift, and 50 or 60 calls a day. It's a lot."
For officers who live in the community, even after the shift ends, there can be some crossover with work.
"Policing in a small community is different because you'll be dealing with people at work and then you'll see them when you're off duty," said Maecker. "You'll arrest a person one day and then see them at the lineup at the grocery store."
Boundaries are important, but overall Maecker's philosophy was to be consistent.
"As long as you treated people with respect and you were doing things for the right reasons, I think people understood and gave you that respect back," said Maecker. "I fully understood that there are a lot of people that hated me for doing my job, but that was part of accepting what a police officer did."
He didn't use the animosity as a reason to disconnect, however. Maecker remained part of the community he worked hard to join in the 1980s. Last year, after the murder of Collingwood woman Kay Kriston, Maecker joined a crowd of hundreds at Sunset Point for a vigil in her memory.
"When you've been in the community so long, you feel that empathy and that the community needs you in those times and they need to hear from you," said Maecker.
Inevitably, he said, as you become part of the community, you also become impacted by tragedies, sometimes they involve your friends.
"It's more than just a job at those times," said Maecker. "You have to do your job, but you feel that sorrow and that concern for these family members and these community members that are affected by it."
The closeness he feels to the community has also given him passion for his work.
"I felt like you're committing a crime in my town, and I'm not going to let that happen," he said.
That's why he's sad to see some of the major issues of drugs, homelessness, and addiction hurting the community.
"Drugs were always there, but these drugs (opiods) that are killing a segment of our population, it tears my heart out to see that and I see, unfortunately, a lot of young people I dealt with early in my career who have now passed away because of these drugs," said Maecker.
He said the drugs circulating in Collingwood and many municipalities now are "serious business" and he's concerned about the long list of names of people who have died from overdosing.
Homelessness is also tough for Maecker to see, because he remembers a time when it existed, but at a level that the community could still support.
"Certainly, in the last 10 years, we've seen the tragedy of serious drugs in our community and the opioid crisis and then homelessness and the other one is mental health," said Maecker, pointing to the OPP's mental health response team, which works with the Collingwood General and Marine Hospital.
"We've done it out of necessity," he said. "Not because we wanted to develop this program, it's been done because the numbers and the data speaks to having to have it."
Though he has faced challenges and changes in his career, he's proud of the 35 years he spent as a police officer in Collingwood and will continue to be an active member of the community, this time volunteering without the mayor's orders.
"I'm going to miss the officers … we had so much fun doing this job," said Maecker. "It's work, and you can't get along with everybody, but generally, we're all doing it for the same purpose and so I'm just going to miss the day-in, day-out interaction with the members here."
Maecker's two sons Jonathan and Eric are also police officers. Eric is in Collingwood and Jonathan works for Huronia West OPP.
"I'm so proud of them … it's tougher to be a police officer in this day and age than it was for me when I started," said Maecker. "It's more complex … So I gotta hand it to them for being part of it. It's a tough career, it really is now and it's under more scrutiny than it's ever been."
In retirement, Maecker hopes to dedicate more time to his two grandchildren, his backyard garden and lawn, and his woodworking hobby.
He also expects his Bernese Mountain Dog, Ozzy – named for the CCI mascot – will be overjoyed at the extra time they get to spend together and all the walking they'll be doing.
Maecker officially retires June 30.