A local artist is capturing the beauty in sunset years by teaching seniors how to paint. Their work has made the walls of a local gallery.
"I thought I'd be dead before I got famous. Thank God that's not the case," jokes 92-year-old Keith Sumner, one of the many seniors whose original art is displayed at the exhibit titled Inspired by a Lifetime at Stonebridge Art Gallery.
A resident of Leacock Retirement Lodge in Orillia, he is one of the students taking lessons with Lisa Harpell, an Elmvale-based artist who has been teaching art classes to seniors in retirement homes in the region.
The work of about 40 senior artists ranging in age from 81 to 101 years old from seven retirement communities is on display at the Wasaga Beach gallery until March 27. The show includes work done by residents from Waterside Retirement Lodge (Wasaga Beach), Chartwell Whispering Pines (Barrie), Aspira Waterford Retirement Residence (Barrie), Allandale Station (Barrie), Lavita Barrington Retirement Residence (Barrie), Bayfield House (Penetanguishene), and Leacock Retirement Lodge (Orillia).
The exhibition also includes Harpell's paintings and sculptures.
True to its title, each painting displayed for Inspired by a Lifetime has an impactful story to tell.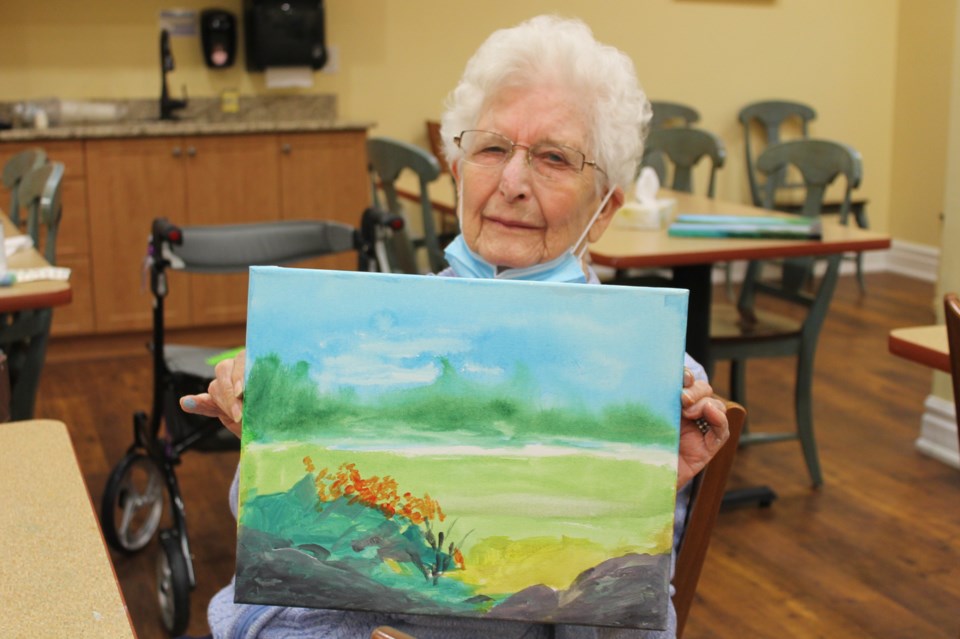 Verna Stovold, who lives with macular degeneration, is one of the many seniors attending the classes.
"Verna paints beautifully because her body remembers how to paint background, middle ground and foreground," said her teacher, Harpell. "She tells us the paint that she wants and she dabs her brush and goes right ahead and paints. She asks me all the time if it's okay if she comes to class … I say, 'Verna, you're the one that's inspiring everyone else.' Because I am holding up [her] paintings and everybody goes 'wow.'"
Stovold has two large paintings and ten studies included in the exhibition.
The process of training seniors to paint has been extremely gratifying for Harpell.
"It is deeply satisfying to the soul. It brings me to tears all the time," she said. "Because I know that what they created is worth showing. And it needs to be brought to the community not only for their sake, but for the community to realize that anyone can do this. Creativity is something that gives us hope. And that is something that is necessary in this world right now."
In her early days, Georgian College, Barrie, grad worked with the late Canadian artist, William Ronald.
"He really did bring out the kid in me. He was such a kid himself. And that [thought] is what I really try to pass on, not only his legacy. I also find that the child in every one of my students wants to just play with paint and get their hands dirty. And have some fun and laughs," says the mother of four.
Alysanne Dever, lifestyle and programs manager at Chartwell Whispering Pines Retirement Residence, said the exhibition and art classes have brought a wave of positivity for the artists, their family, and their caretakers.
"This is the first time that I have ever seen or heard of an art gallery showing for seniors with no prior experience," says Dever, noting the opening day reception crowd packed the gallery. "Really, that's what it's all about! The residents were so proud that people were complimenting and wanting to learn about what inspired them to paint specific photos. One of our residents actually sold an art piece as well and she was so thrilled!"
Dever is a strong proponent of the benefits of art therapy, and says it provides residents with a creative outlet to express what might otherwise stay bottled up.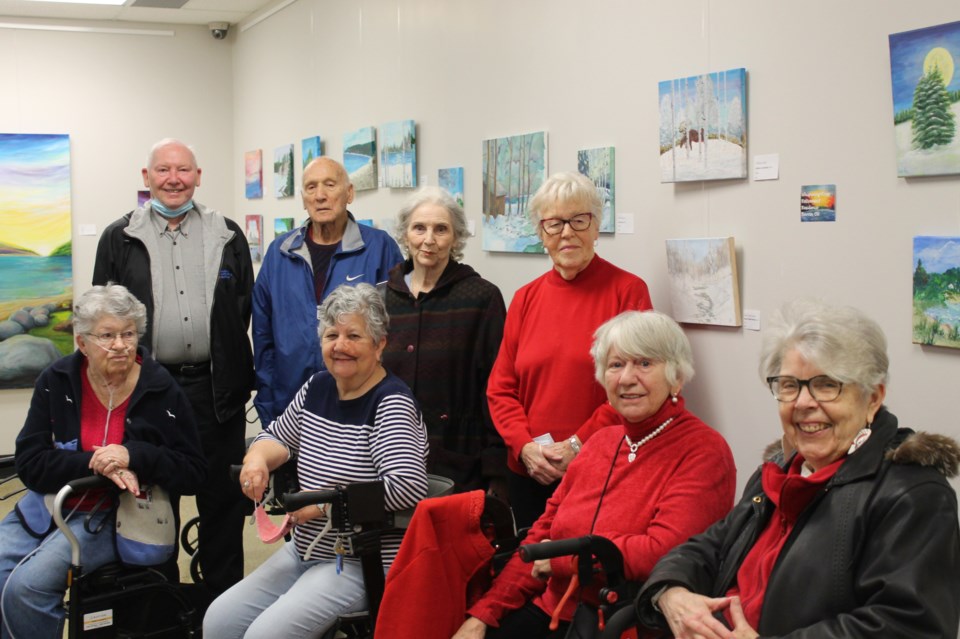 "This allows them to escape from reality, even for a little bit as they immerse themselves in their art piece in that moment," says Dever. "Art therapy encourages seniors to use their creativity and gives them a sense of control and independence, which are essential qualities as you age."
Not every brush stroke is smooth, and not every day was wrinkle-free for Harpell while she taught lessons in retirement homes. From outbreaks and whiteouts to loss of confidence, the behind-the-scenes training and coordination to make the exhibit happen meant clearing several hurdles.
And yet, Harpell says, it is during the most trying circumstances that intuitive art therapy has a larger role to play, especially among the community's vulnerable ones. Art has played such a role in Sumner's life, after he picked up the brush in his 90s.
"Painting puts you in a different mindset. Takes you away from everyday things," says Sumner. "My perception of things has changed. The sky is different every day… and it intrigues me. I am observing things more critically, in more detail…and painting has encouraged that."
The exhibit is supported by the Wasaga Society for the Arts, in part because it helps accomplish the society's mandate of making art accessible.
The society's interim president, Steve Wallace, said the group aims to introduce the community to all kinds of art, and to promote diversity and inclusion for artists and patrons.
The Inspired by a Lifetime exhibition runs at the Stonebridge Art Gallery until March 27 on Thursdays and Saturdays and on Monday, March 27 from 1 p.m. to 4 p.m.