If you thought Ontario's provincial parks were closed for the season, we're happy to tell you that's not the case. Not only are most of them open, they are ready and eager for winter visitors.
There's a wide array of winter activities you can enjoy, many of which would make ideal winter adventures for families to do together.
Use this handy guide to plan your winter weekends and make the most of the rest of this beautiful season.
Bancroft, Ontario
Just north of Peterborough, this park makes for a wonderful winter backcountry getaway location for nature enthusiasts.
Killarney, Ontario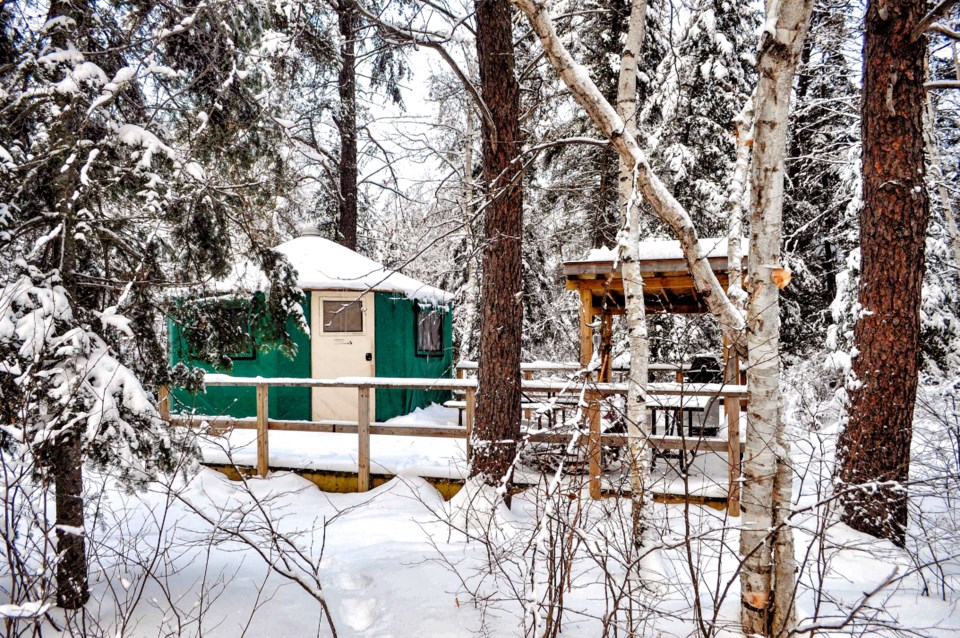 Killarney Provincial Park has 33 km of trails winding through it. Call ahead for snow and ice conditions or check the Ontario Parks ski report. The park also offers walk-in winter camping, six heated yurts and two camp cabins. There is a winter warm-up hut located in the day use area with a wood stove that can be used by both day visitors and winter campers who want a warm place to sit or eat before returning to their tents.
Port Burwell, Ontario
Just outside of London, Komoka is a great location for day use winter adventures. Skiing and snowshoeing are welcomed on the park's trails. However, please note that the trails are not maintained or track set, so visitors must use caution during the winter months.
Port Elgin, Ontario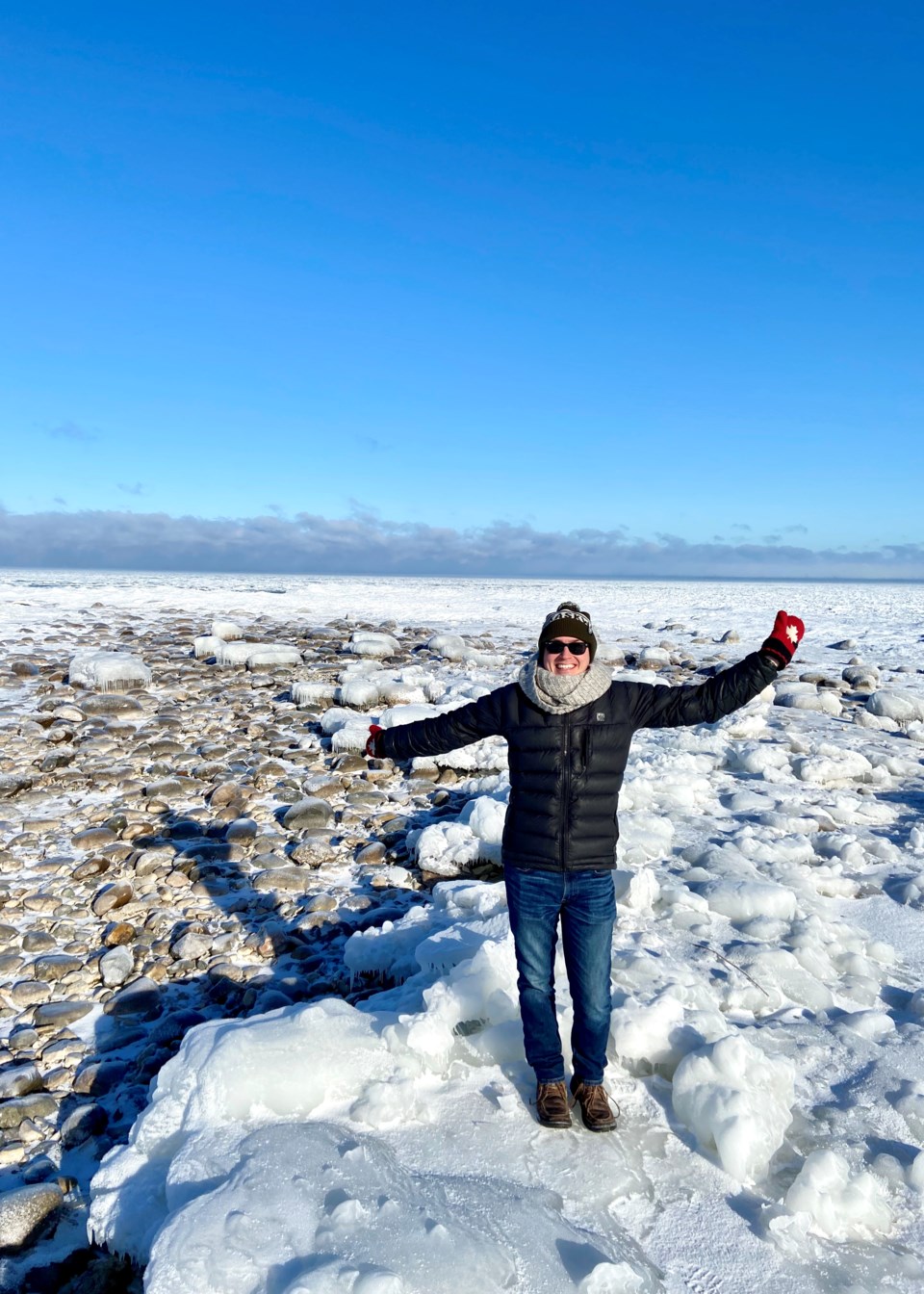 MacGregor Point Provincial Park is nestled against the shores of Lake Huron in Port Elgin. If you haven't explored the park when it's covered in snow, you don't know what you're missing. The 400 m ice-skating trail is the premier winter attraction (and best-kept secret!), but the park also offers cross-country skiing, snowshoeing, camping and other winter fun. Glide through the woods on the magnificent ice-skating trail; the park turns on the trail lights for skating under the stars until 10:00 pm every day of the week—a truly magical experience. There is also a large ice pad for outdoor hockey enthusiasts. Snowmobiling is permitted on park roads only.
Alliston, Ontario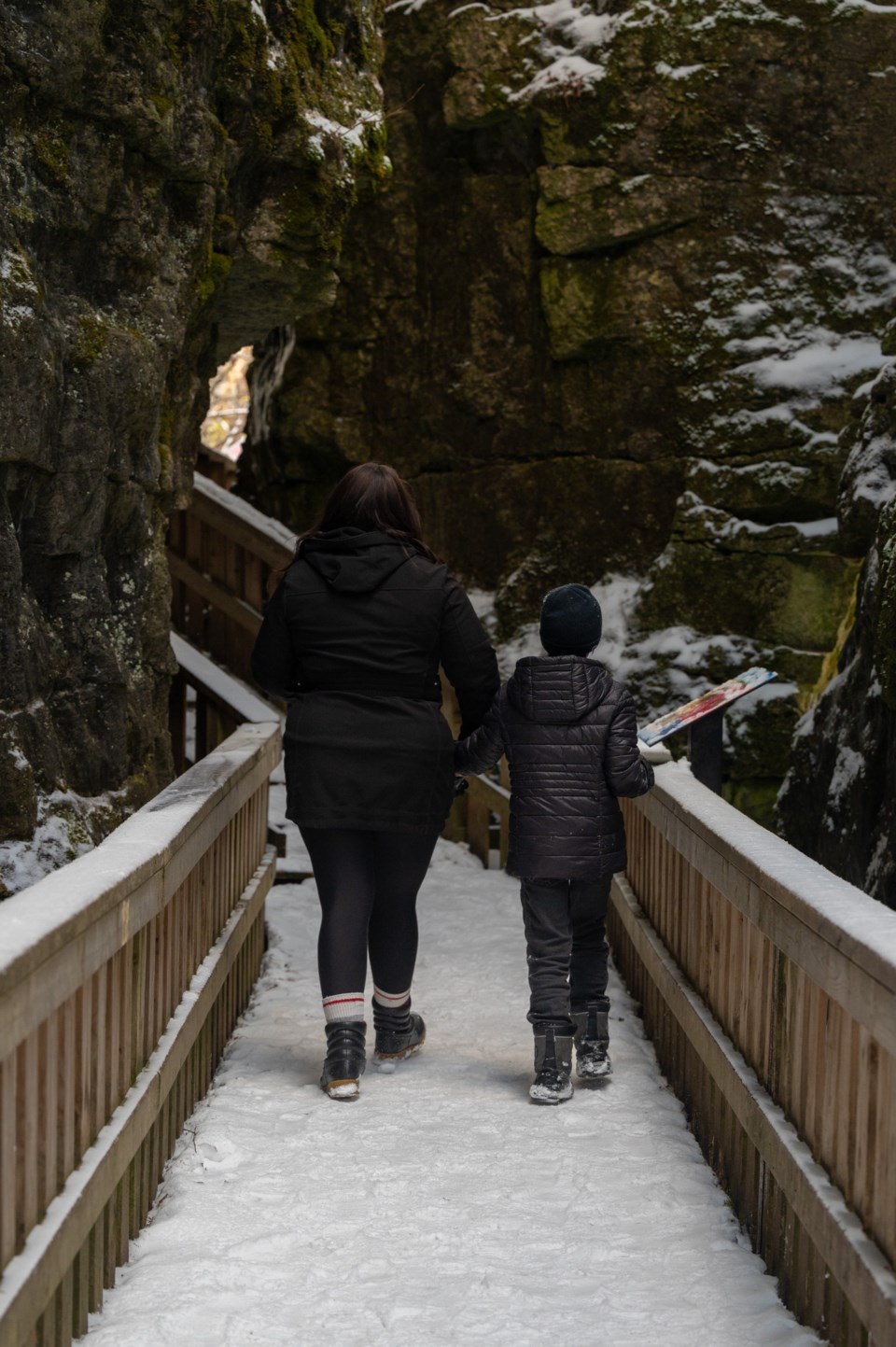 Less than an hour from Toronto and located on the picturesque Bruce Trail, this park is a great location for day use winter adventures. Skiing and snowshoeing are welcomed on hiking trails. However, please note that trails are not maintained or track set, so be sure to use caution during the winter months.
Kakabeka Falls, Ontario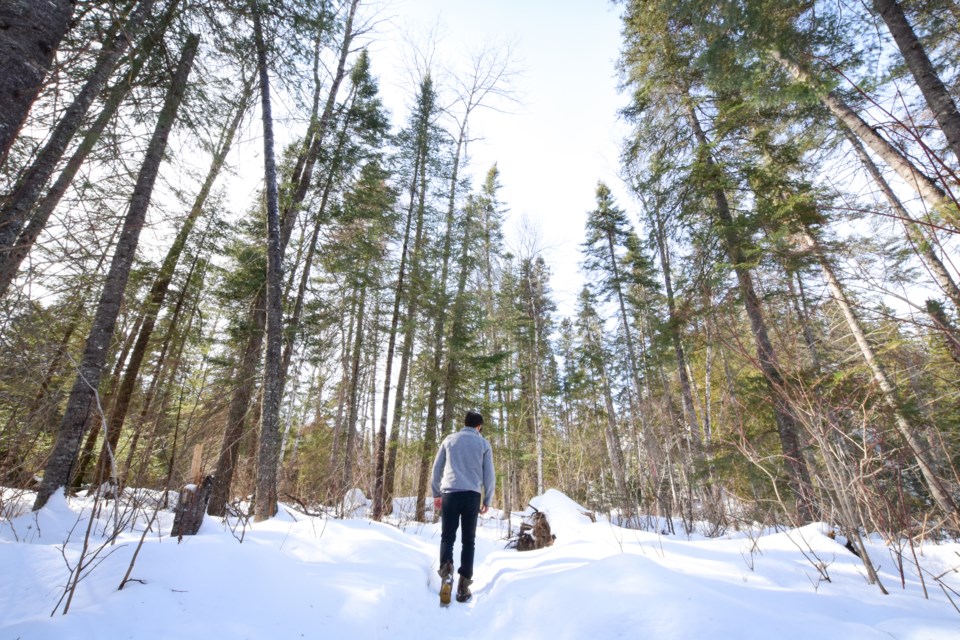 For winter day use adventures near Thunder Bay, head to Pigeon River. Hiking and snowshoeing are welcomed on the park's trails, though the trails are not maintained or track set. Using caution is recommended during the winter months.
Grand Bend, Ontario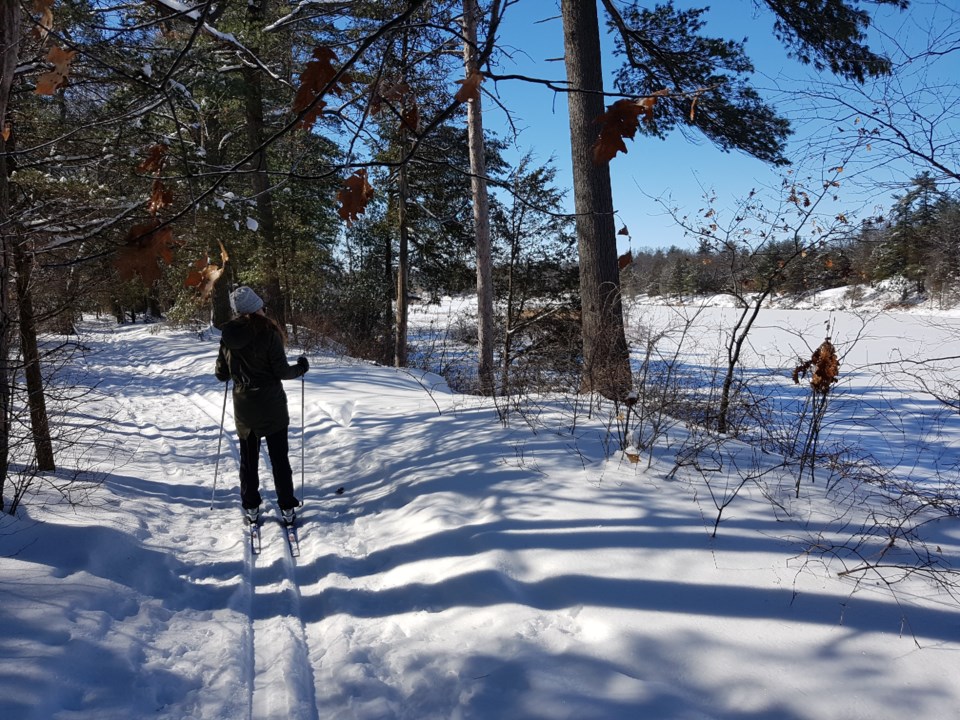 From snow-covered dunes to a glistening river, Pinery's winter essence is silent beauty. When conditions permit, visitors can explore this winter wonderland by camping outdoors in a tent or RV, or in one of the park's heated roofed accommodations. You can cross-country ski here, with 38 km of packed and groomed ski trails. You can also snowshoe along walking trails or in other areas of the park; please just avoid steep slopes and environmentally sensitive areas. The park has a large outdoor skating rink in front of the Winter Chalet that is open from morning until after dark, weather permitting. The toboggan hill near the Winter Chalet is lit during the evening and is open daily throughout the winter, conditions permitting. The Winter Chalet contains washrooms and is kept heated for use.
Brighton, Ontario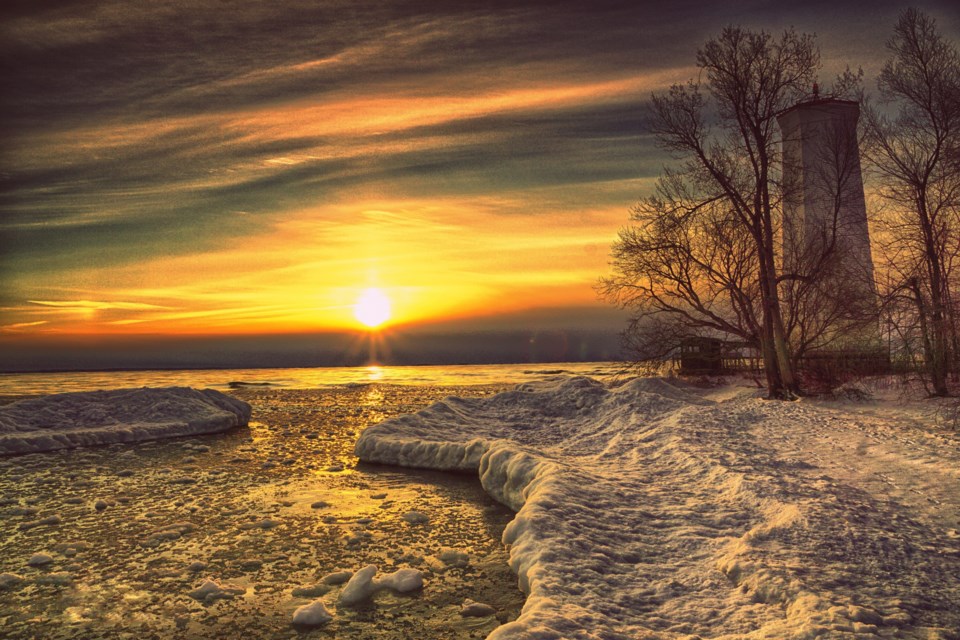 While camping may be closed for the snowy season, Presqu'ile Provincial Park is open for day use 365 days a year. Walk or drive to enjoy winter lakeshore vistas such as stunning ice cliffs or ice volcanoes. Known as a prime birdwatching destination, winter brings a new host of birds that spend the winter at Presqu'ile and are gone by summer. Over-wintering ducks—such as the spectacular Long-tailed Duck—are always present, and other species come and go all winter until the big migration flocks arrive in March. In addition, other birds such as Bald Eagles, Snow Buntings and Snowy Owls are regularly seen.
Atikokan, Ontario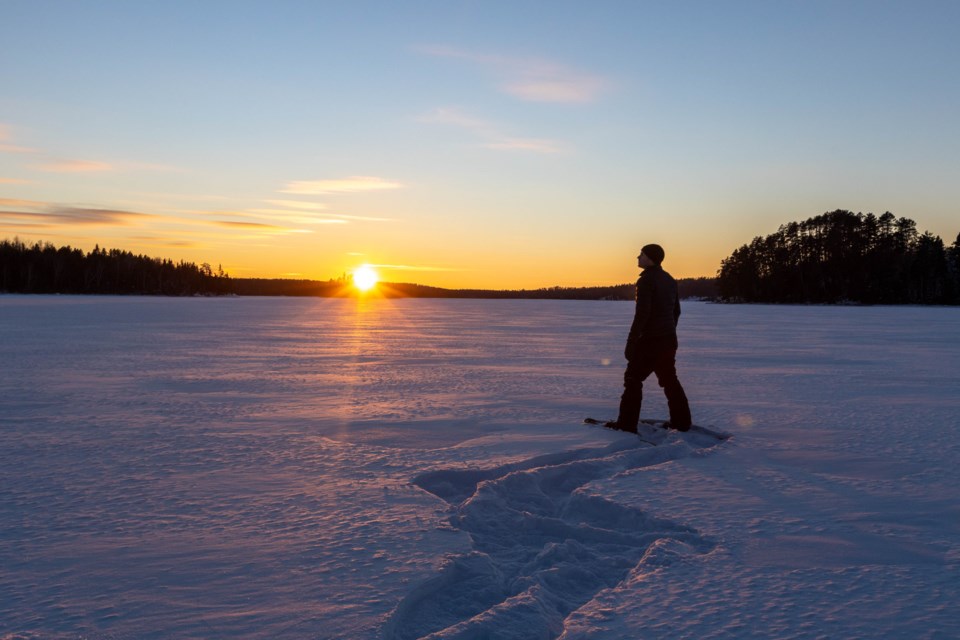 Normally known for its world-class wilderness canoeing opportunities, Quetico's interconnected waterways become a winter venue for cross-country ski adventures and the park's backcountry is open year-round for backcountry campers. You can also snowshoe or hike along the campground's ski trails, ice fish for trout on French Lake (please consult Ontario fishing regulations before your trip) and go dogsledding and skijoring. Skijoring is a combination of cross-country skiing and dogsledding, a newer sport that is catching on fast. Backcountry dogsledding is permitted, but special approval from the management is required. Please contact the park at (807) 597-2735 prior to planning your trip.
Hearst, Ontario
In Ontario's far north, René Brunelle is open for day use adventures. Downhill skiing is the main winter attraction in the park. The ski hill is separate from the main park area, and is accessed via Ski Hill Road, just west of the town of Moonbeam. Visit the Municipality of Moonbeam's webpage for more information about skiing. You can also snowshoe here, as the trails are maintained and you can ride fat bikes, which are available for rent, along the trails as well.
Morpeth, Ontario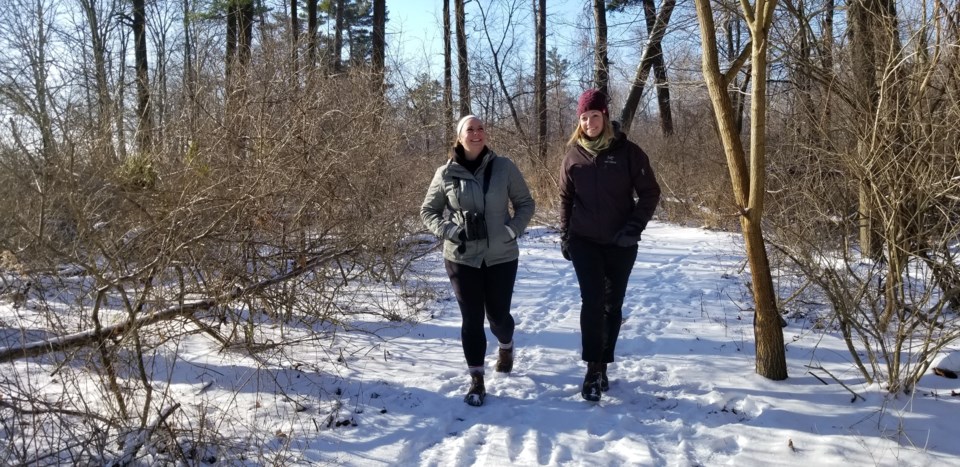 A popular birding park for most of the year, Rondeau offers a wide variety of activities in the winter as well. Ice fishing, cross-country skiing (though there are no groomed trails), snowshoeing and education programs in the wintertime make it a fun place to visit for both families and active adventure-seekers. You're sure to enjoy the variety of trails, diverse habitats and beautiful winter landscapes. If conditions are safe, visitors are permitted to ice fish in the park; please consult the most current Ontario Fishing Regulations Summary before your trip.
Kenora, Ontario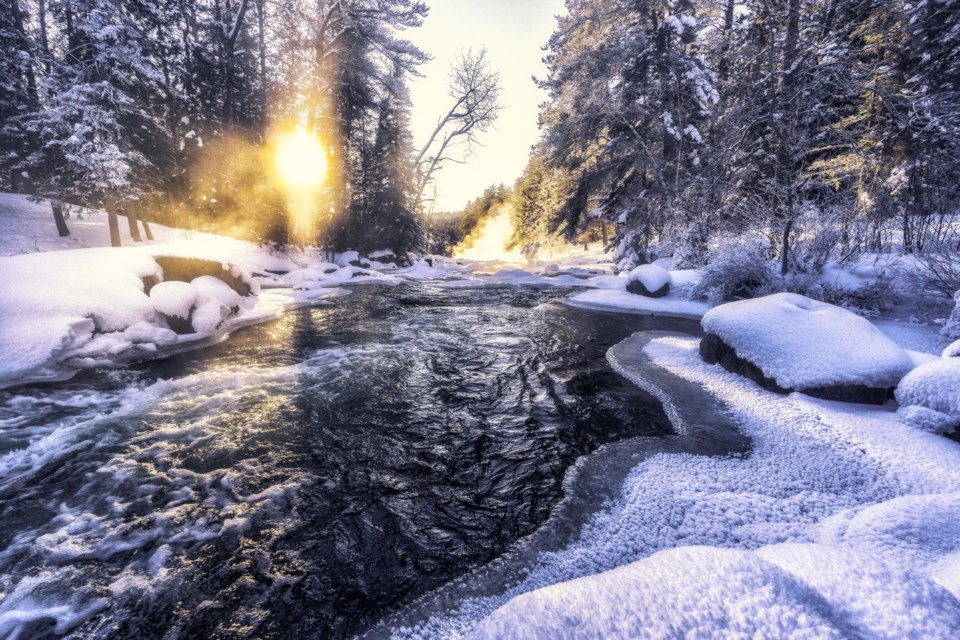 Enjoy the peace and tranquility of Rushing River under a blanket of snow. There are 18 km of groomed skate and classic cross-country ski trails for you to enjoy. You can also explore the park's hiking trails either on foot or by snowshoe (there are no designated snowshoeing trails). Parking, washroom and picnic shelter facilities are available next to the rapids. Winter day use permits may be purchased at the park's self-serve fee station.
Sutton West, Ontario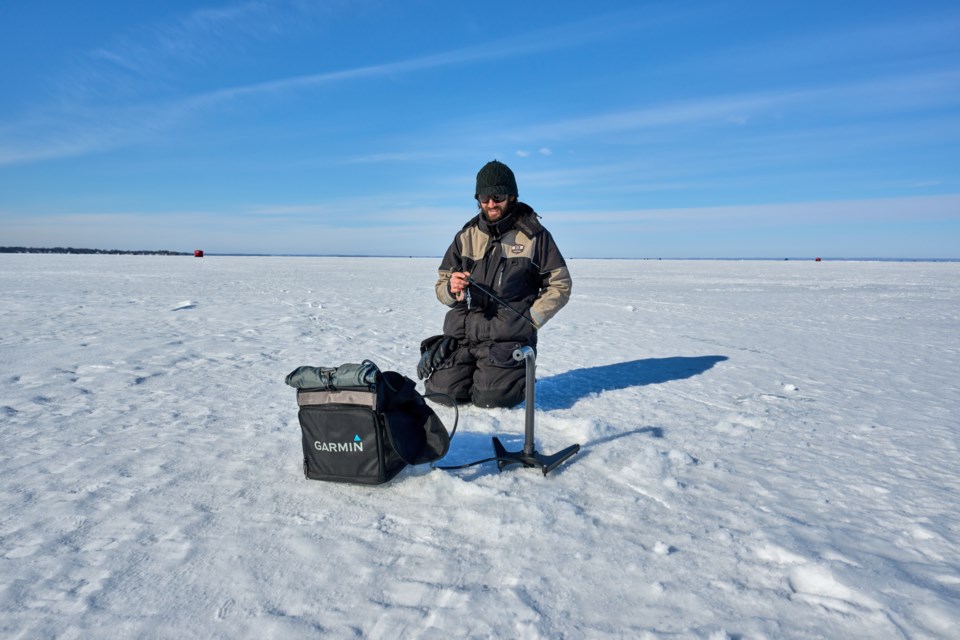 In the winter you can enjoy the calming quiet here. Unorganized winter activities within the park include hiking, cross-country skiing and snowshoeing. The main park road and a parking lot are kept open for winter visitors. For the most current ice conditions, check with a local ice hut operator. Lake Simcoe has excellent ice fishing opportunities for perch and whitefish; please consult Ontario fishing regulations before your visit.
Bancroft, Ontario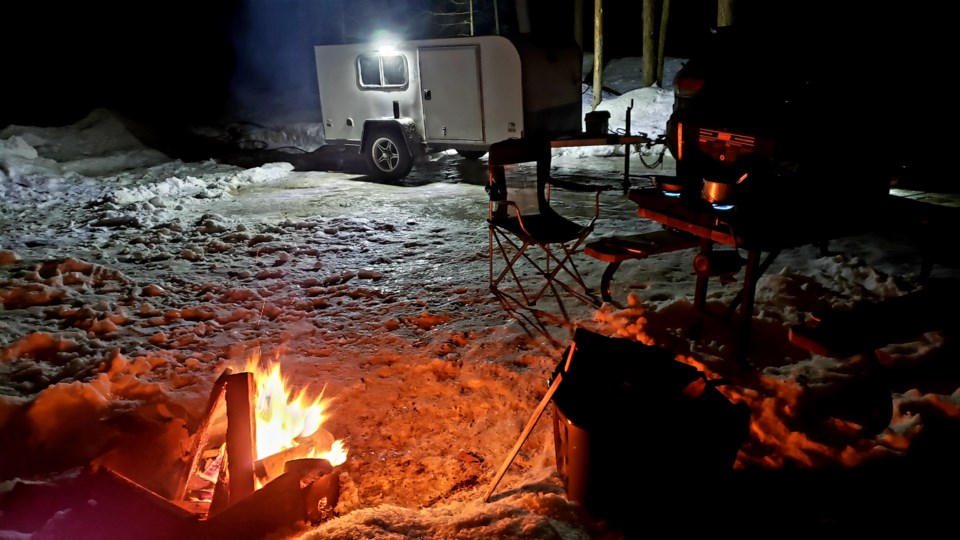 From snow-blanketed forests to a wide range of fun activities, Silent Lake is the ideal winter destination. Visitors can stay in one of the many roofed accommodations, try outdoor camping or just visit for the day. More than 34 km of cross-country ski trails wind their way through hardwoods, cedar swamps, groves of White Birch and beech stands. The terrain is rugged, but ideal for family skiing. You can snowshoe at Bonnie's Pond Trail, a 3 km loop that winds past mature beech trees and a beaver pond. Bring your own snowshoes or rent a pair from the park. Ice fishing for Lake Trout is permitted on Silent Lake during the winter season; please consult the Ontario Recreational Fishing Regulations as Silent Lake has special exceptions.
Pass Lake, Ontario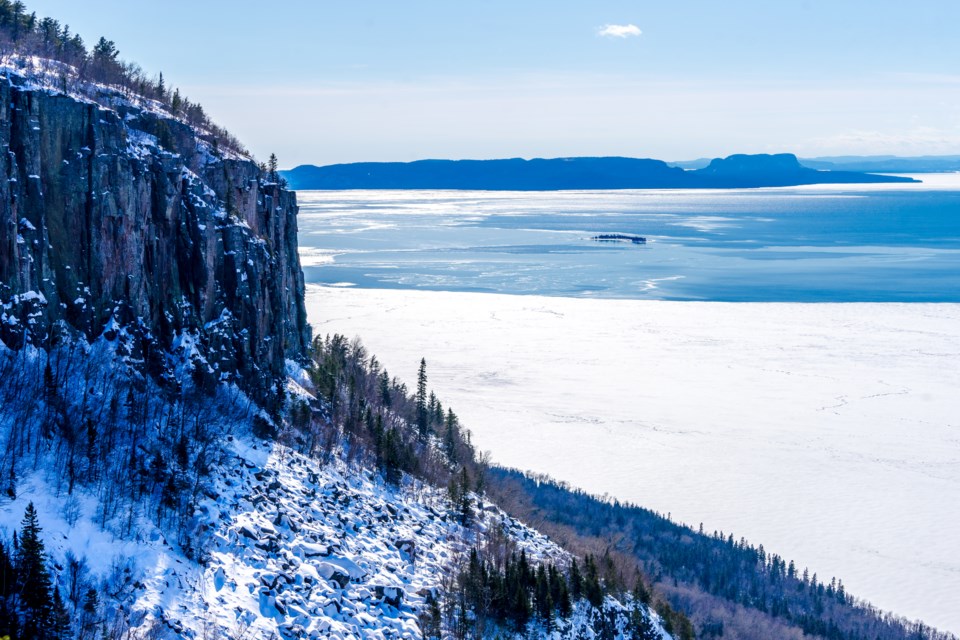 Sleeping Giant offers some of the best cross-country skiing in the province, as well as heated roofed accommodations for those looking to stay overnight. The park maintains 50 km of groomed trails for cross-country skiers. Winter visitors can snowshoe on a variety of hiking trails while enjoying some great scenery and wildlife viewing. Ice fishing is also permitted in the park; please consult Ontario's fishing regulations before your trip.
Chute-à-Blondeau, Ontario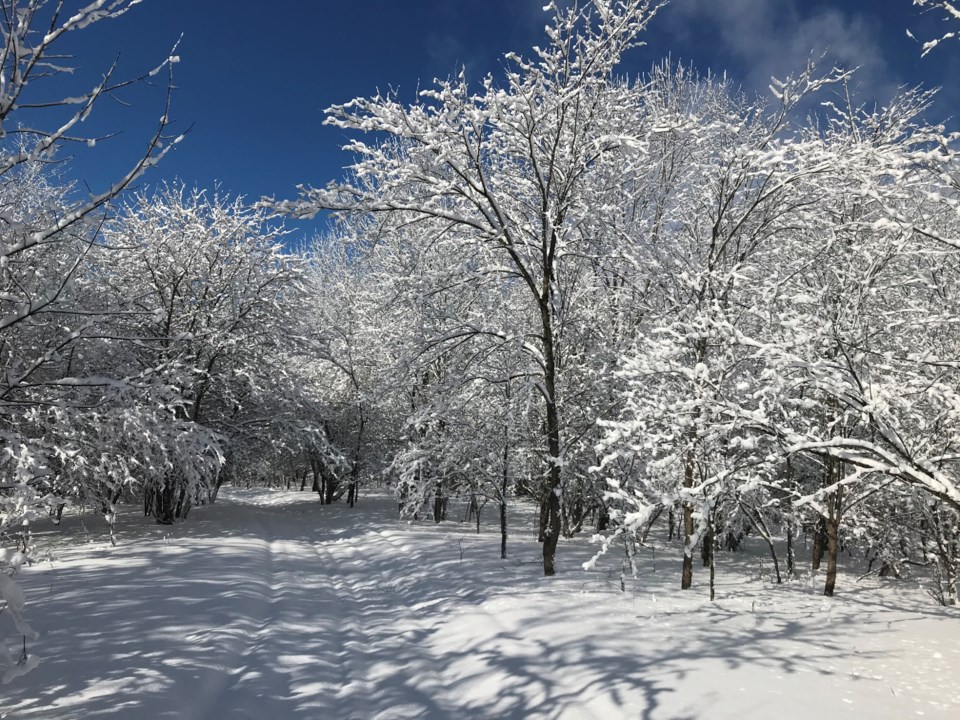 Just an hour from Ottawa and Montreal, this park is open through the winter for day use adventures. From mid-December to mid-March, the park operates and maintains a 10 km groomed and track-set cross-country ski trail; the terrain is relatively flat and is generally preferred by beginner to intermediate level skiers. Those on snowshoes are welcome to explore any sections of the park but are not permitted on the ski trails. Travelling on ice is not recommended.
Wasaga Beach, Ontario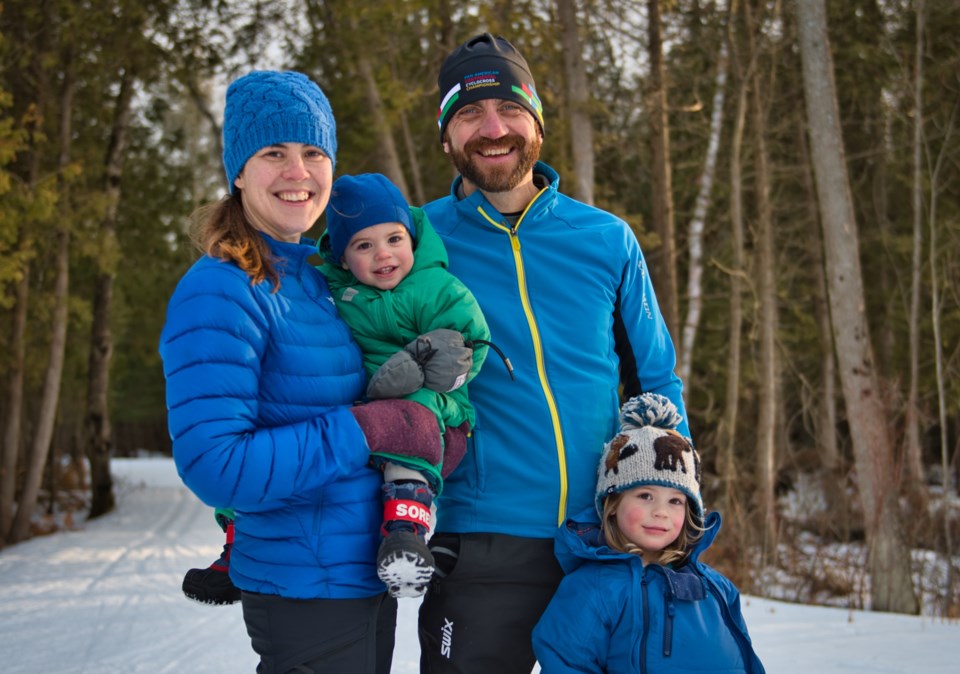 This park offers some of the most exciting Nordic ski terrain in central Ontario, with 24 km of groomed and track-set trails. Wasaga Beach has cross-country trails for skiers of all skill levels; the Wasaga Nordic Centre offers modern equipment rentals and warm-up shelters. Check the Ontario Parks Snow Report or call the Wasaga Nordic Centre at (705) 429-0943 for trail conditions, rental and ski rates, and winter program information. There is also a 10 km snowshoeing trail that winds through a snow-covered, pristine forest. Bring your own snowshoes or rent a pair from the park.
Levack, Ontario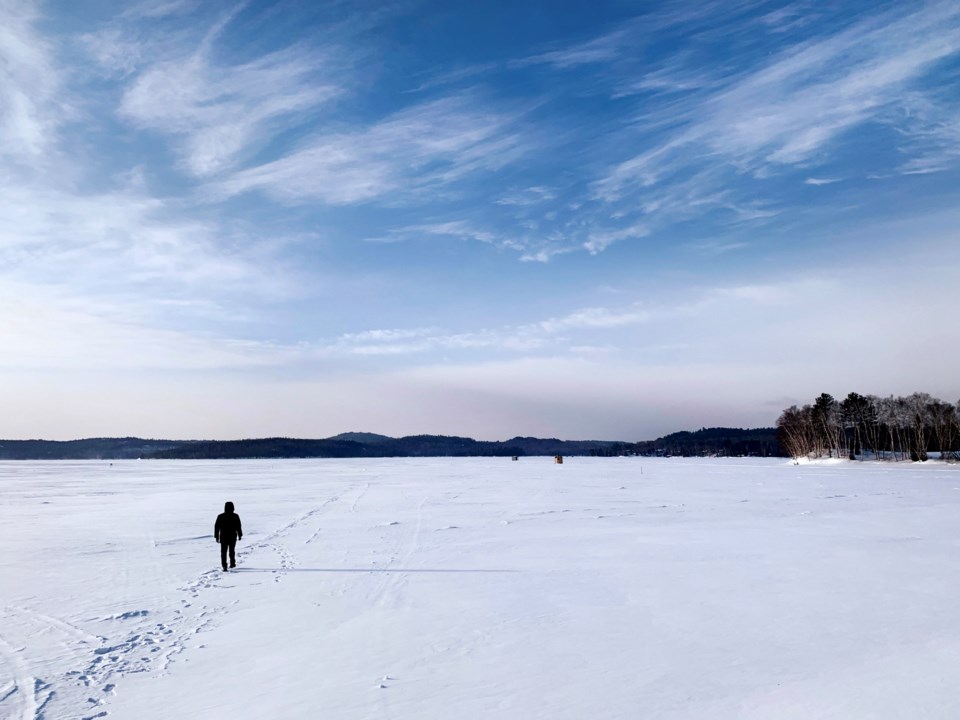 This park offers some of the best cross-country skiing and snowshoeing in the region. Many winter enthusiasts come for the day, but with four trail-side yurts that are heated and available for winter use, winter camping is easy. The Onaping Falls Nordic Ski Club operates a 15 km trail network of professionally groomed trails for both classic and skate styles of skiing for beginners to advanced levels. Skiers may purchase a season pass, weekend pass or just pay for the day. Passes are available for purchase at the Park Office, Windy Lake Motel or at the ski chalet during the weekends.
Windy Lake Provincial Park offers our winter campers the opportunity to try their hand at ice fishing without the hassle of bringing all the equipment that goes with the winter sport. A complete ice fishing rental package is available at the Park Office and includes all the gear you need to spend the day on the ice. This includes 2 rods/reels, tip-ups, a bait bucket/stool, fishing tackle, an ice auger and a sled that transforms into a portable ice fishing shelter, complete with 2 seats. Park Staff will transport the gear to a pre-determined ice fishing location and help you set up for the day. Lake Trout are abundant, but Lake Whitefish are also a popular winter species (and are very tasty). Please note that it is the responsibility of the renter to have all required permits and licences.
In the winter you can experience a totally different side to these incredible provincial parks. Even if you've been lucky enough to enjoy them in one of the other seasons, a wintertime visit is sure to stand out.