Last month I lamented in this space as per the passing of some sweet senior souls. Such was the sadness, it cast a shadow over my normally all-in enthusiasm that a northern tour of OHL games would customarily command.
I set out nonetheless, morose, as if mapped for Mordor, but after a pair of bleak, back-to-back, grey, rainy days – both of them Mondays – when, suddenly before me, was a salt-water-taffy-wide, rainbow, but, with bandwidths of colour so brilliant, it had to be Genesis's. The clouds cleared and the buoyancy of open road under blue sky beckoned.
Sustained sunlight's often involved in such a process, but, on this occasion, I kid you not, Johnny Nash's I Can See Clearly Now, was spun avidly by a DJ as per the upbeat tune's 50th anniversary: "I can see clearly now the rain is gone… Gone are the dark clouds that had me blind … Here is that rainbow I've been praying for … It's gonna be a bright, bright, sunshiny day, …" was a sensational WOW!
But, what of dark days?
I'm of the firm view that they serve to enhance the candescence of the bright days, for the stark contrast they provide – like the tiny red cardinal in a Robert Bateman snow-scape.
I figured too, that it was probably pragmatic to dial up my demeanour so as to retain that Stevie Nicks' realtor, over on the right, important to this space.
Although there was a hint of a warm breeze in my sails, I turned off of Lakeshore in to Churchill's at the south-end of North Bay, for a fun foamy draught to lightly fuel these random ruminations, ahead of the tour's first game.
Churchill's bar is buried perfectly deeply and darkly in the establishment's windowless interior, reminiscent of the defunct Diefenbunker, in this vicinity. So, too, does it conjure warm memories of Orillia's El Castel, formerly up and over on Westmount, where its late-night, dark corners provided a reprieve for one to ruin one's eyesight reading finely-fonted broadsheets by candlelight.
Bronwyn, the bartender, is genuine and friendly – quick with an assessment as per the pints, quicker still with some samples. Her colleagues appear less so, for they're collectively engrossed in that enticing new app, "Enthralled & Enraptured." None of them take notice when I flaunt two of my favourites, "Get Milk" and "Was the Dog Out?" but, when I drop my own foul phone on the floor with a bang, profound, it is, when these waitresses raise their foreheads five-plus inches, as if they were one, with nary an eye averted from any screen.
Surely, some future Darwinian will cite this elasticized optic nerve, as it is to screen-scanning, as the esteemed opposable thumb is so vital to texting, as pinnacle peaks in the annals of evolutionary advances.
"Huh," … I gaze dumbly at my knife and fork, as it has long been my understanding that that thumb thing was all about killing one's prey with the former, so as to eat it with the latter.
However bewildered, it gives way to amusement when I arrive at the Memorial Gardens, for the contest pitting Peterborough's Petes against North Bay's Battalion. You see, there's a quarter-mile-long line of the St. Joseph Scollard Hall Bears brass band, winding its way around, then, into the rink, up into my section, and right into my pre-ordered seat.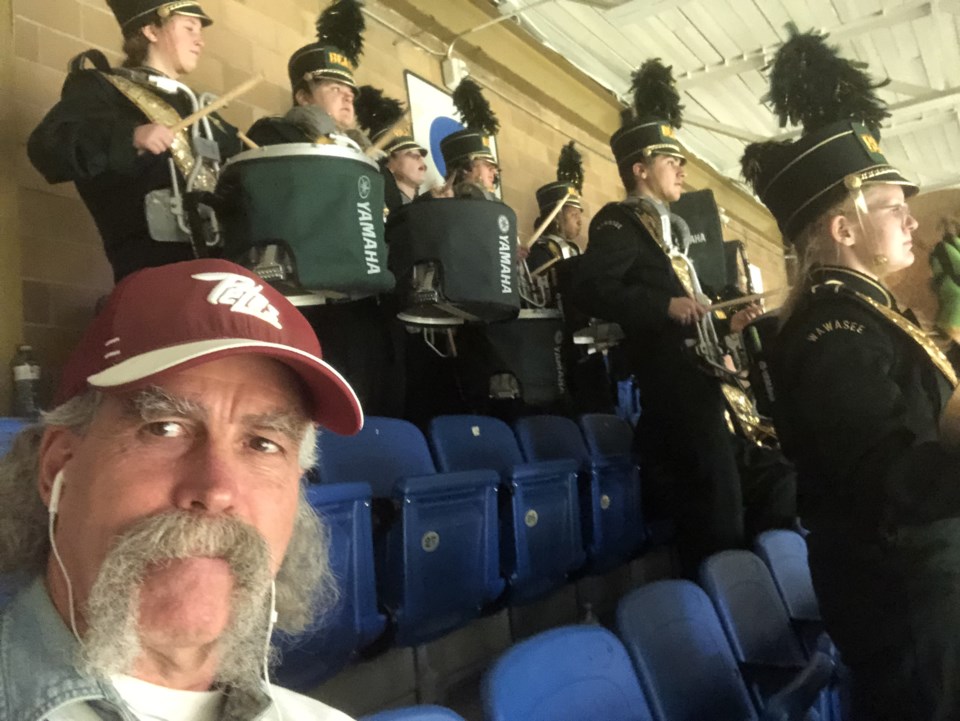 In the midst of this ballyhoo of booming, banging and clanging, I'm half-way through two "Excuse mes," while bobbing and weaving under the lethal, Ali-like jabbing of some tall guy's trombone, when the reality of this remarkable ridiculousness registers. Rather than face this full complement of trumpets and drums, book-ended by fat guys with tubas, I fade away slowly to sit with the school's nuns.
Additionally, it's dawning on me that this occupying orchestra may be organized, for there's a really intense conductor who's clearly coordinating, some consistency in uniforms, and, clearly, some collaborating. Its brassware is definitely dangerous, as I've just outlined, and here I am attired in enemy colours.
I'm also starting to suspect that quite likely the band is here to support the troops, and my suspicion is quickly confirmed with North Bay's first goal, then emphasized maliciously for the next three hours as the Battalion batter the Petes.
As such, I'm happy to head out early the next day for the Soo, where the Greyhounds are the top ticket, as Leaf-land is nearly a time zone away. Sure enough, a half mile in to town, I'm greeted by a sign that's so outdated, "Welcome to Sault Ste. Marie, home of the 1993 Memorial Cup Champion Greyhounds," that it works wonderfully well for its small city sentiment. Conversely, "Welcome to Toronto, home of the 1967 Stanley Cup champion Maple Leafs," south on the 400, wouldn't.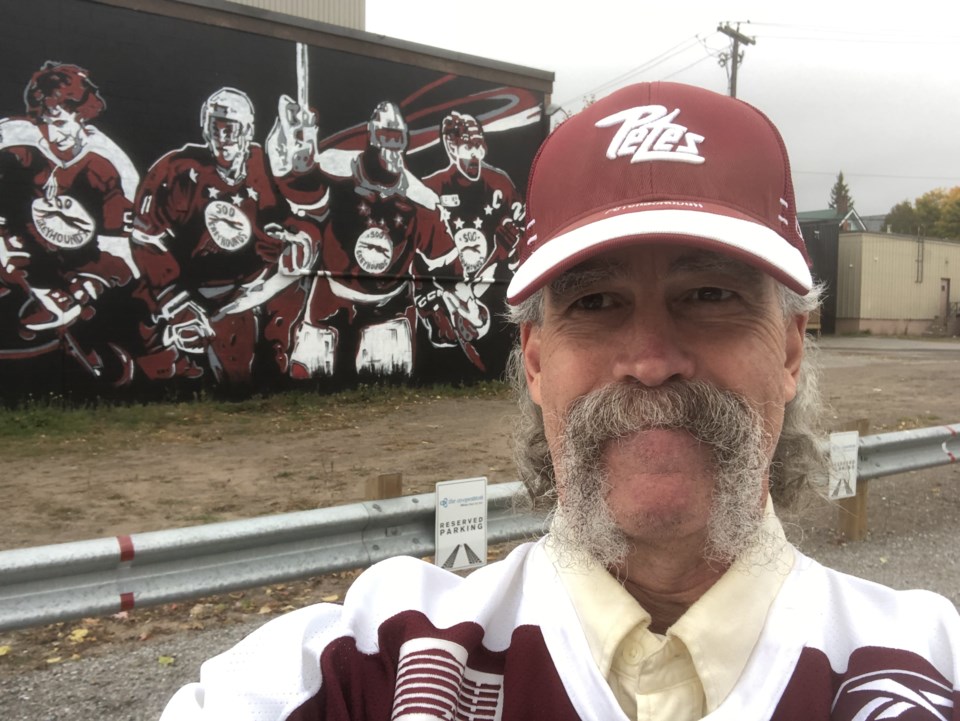 As an aside, I dine at Giovanni's prior to that night's game. Supposedly it's the supreme Sicilian purveyor of pizza and pasta for this market's sizeable and sophisticated, ethnic Italian palate. This, so much so, a chain such as East Side Mario's would dare not enter it, I once was so unofficially informed.
I'm enjoying a Northern Superior lager when an elderly gentleman – whom I'll call 'Mr. G,' for this apparent trait – slides into the barstool beside me. He's as intent in his space, as I am in mine, but he casts a grim glance my way, just the same. He's a dead-ringer for that baritone, Farmers Insurance guy ("We've seen everything") on TV, though perhaps sterner.
Warily, I watch him with one eye when he orders – "Minestrone Primavera. Three slices of Calabrese. Warmed. Linguine alla Puttanesca. Valpolicella. With the meal. Please." It's such a well-paced, perfectly polite, staccato of articulated precision, with a hint of Latin, I regret having already ordered simply for the missed moment, to say, "Same."
I do, however, replicate his wine order, discretely adding a slice of bacon-infused cheesecake for both he and I, though 'Miss M,' who delivers it, whispers in a series of faint puffs, "It's a regimented routine … Saturdays at 7 … He may not eat it."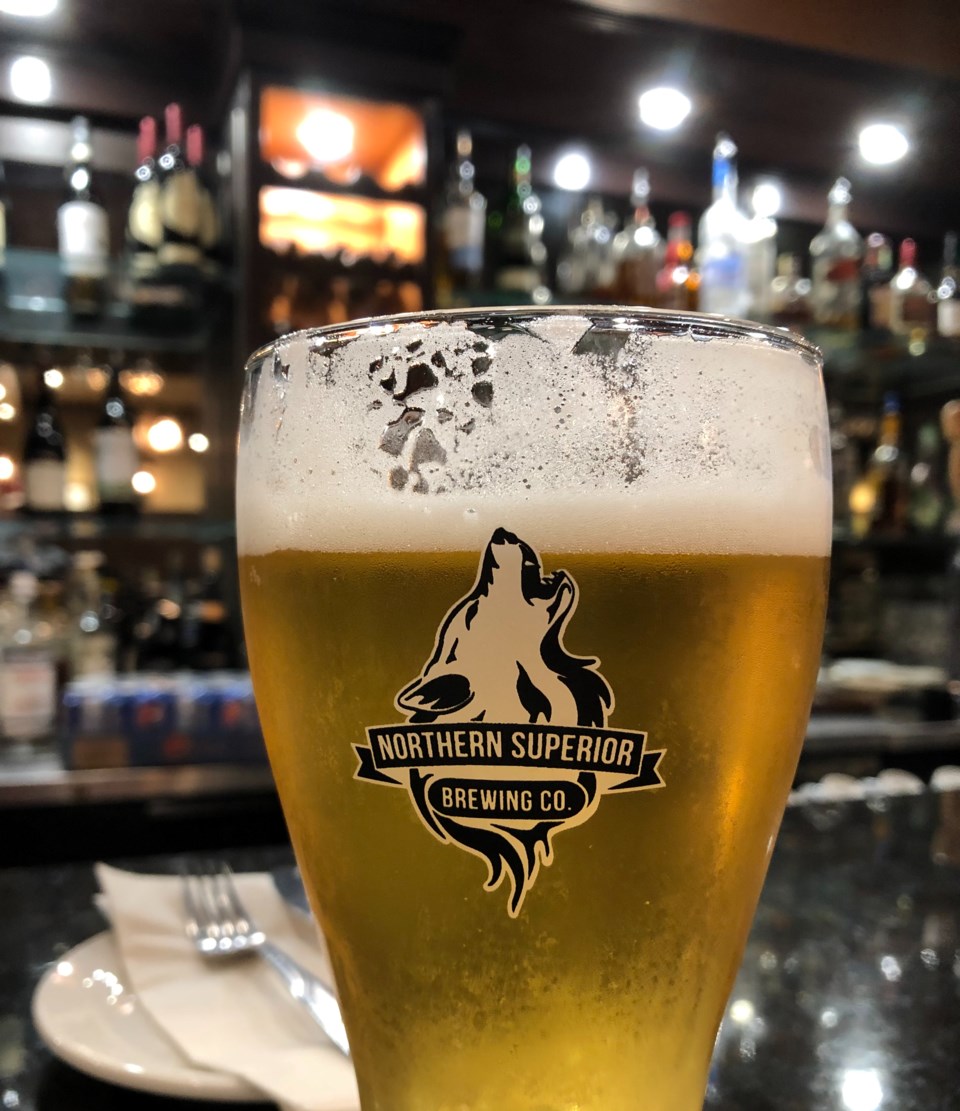 'Miss M' has been a stellar afternoon barmaid, whose service has been high-calibre, her conversation, engaging, and is now, the effective Manager for the evening. She sports an intriguing tattoo that circles an elbow in a Gaelic-like manner: "You can't get over it, until you've gone through it." I sense that she's well on her way.
Were it my place, I'd introduce breakfast, have 'Miss M' work the entire day.
When 'Mr. G' nods in acknowledgment of the dessert, I tentatively strike up a conversation with him, learning that he's 87, a former principal, and a history teacher before that. He touches tenderly on 57 years of marriage, the past seven as a widower, though I smile to myself, surmising he's still counting.
He reverts some to his matter-of-fact manner as per meeting his bride while travelling – a pursuit within a pastime that's been extensive. "New Zealand and Ireland," he says, just short of interrupting my query as per preferred points, then I realize he was only anticipating. "World War II," were the destination an era, then follows.
After a coffee and fresh air, I'm sailing slowly on one-way Wellington, then down along Queen, keeping an eye out for the Soo's version of Memorial Gardens, when a two-storey-high banner of gone-now Greyhounds – Gretzky among them – flashes high and by to the right. Their cherry red jerseys clash horribly with the red-brown brick, as they do so again when losing to the maroon and white Petes' later that night.
Next morning I'm returning east on 17, away from the famed Agawa Canyon's flaming fall colours, for Sudbury's Sunday afternoon matinee. Still, I encounter such spectacular expanses of coniferous green, sunlit so in the same splashes of colour, it seems I'm travelling there via Vermont.
Sudbury's arena has to be the OHL's oldest, for, when both teams reverently face the Queen's portrait for O Canada, I see that it was taken when she was but a teen. Should palatial protocol press for a picture of King Charles, I suspect that both teams won't. A wolf howl signals every Sudbury goal, and unfortunately, the last one, in OT, seals the deal.
Homeward bound on 69 South, then 12 East to Orillia, I conclude that the hockey's been middling, but, this circuitous venture,1,400 kilometres all-in, has proven enlightening.
I hear 'Mr. G' lecturing raptly attentive pupils that a journey such as this, embarked upon in Europe, would equate to north from Vienna to Berlin, then west by way of Luxembourg, and well on into France, with the promise of enchanting encounters transpiring by chance.
Moreover, these wanderings over open roads with fair stretches of freshly-smoothed blacktop, under blue skies, and through wonderfully winding corridors blasted through high, red, granite walls with long-sweeping graded curves, banked so as to entice drivers to accelerate into and around the unmapped and the unknown lying beyond them.
All of this inspiring one's mind to meander that mysterious mix of imagination, melancholy, even, meaning.
And, near Blind River, there's a cool-calm vision, … where far off in the distance of a long, quiet-calm channel down the top end of Lake Huron, where a lone Chippewa brave in a birchbark canoe, but more so, in seclusion, silently sips water that's so cold-pure and cobalt-blue, too, though only that that's in his cupped hand and dripping down off the sleeve of his buckskin shirt – this sole commodity of colour – in such sufficiently sharp contrast to the otherwise black and white view.
John Epstein is a former, 25-year Orillia business owner who left southern Ontario for the north years ago, and has never been back. He is now a freelance writer, whose column will appear monthly in OrilliaMatters. He can be reached at [email protected]