The city's decision to reduce overtime at the Orillia Fire Department recently caused one of the two fire stations in town to shut down for six days, and it jeopardized public safety, union officials say.
Since Aug. 4, as per city direction, the fire department has ceased calling in off-duty firefighters to fill in amid staffing shortages, said Brett Eeles, president of the Orillia Professional Fire Fighters Association (OPFFA).
As a result, Fire Station 2 on Commerce Road was closed from Aug. 10 to 15 due to staffing shortages.
"Via new city policy that has come out, during staffing shortages, Station 2 is to be closed instead of calling in overtime or hiring temporary firefighters," Eeles told OrilliaMatters.
With vacation time, illness, injuries, and disabilities — including as post-traumatic stress disorder — the fire department can occasionally run into staffing shortages, Eeles said, but there have historically been enough firefighters to fill in on an overtime basis.
"We have people willing and ready to come in if they are called," he said.
When a closure occurs, the fire department works exclusively out of Fire Station 1 at Gill Street and Highway 12, which can result in lengthy delays in responding to calls — especially, Eeles noted, in west Orillia — depending on the call's location or if firefighters are responding to other calls.
Eeles said response times can "double, up to 10 minutes or more, for residents in the north end of the city" and west Orillia during Fire Station 2 closures, stressing every moment matters when responding to calls.
"(It's) pretty significant when every second counts," he said. "Fires double in size every minute. As well as when we're responding to medical emergencies, heart attacks, other serious emergencies, every second counts — brain damage can set in after four minutes."
Eeles said he "definitely" anticipates more closures under the current policy.
"I just think it's extremely unfair to the citizens of Orillia that the city responds to human resource issues by jeopardizing their safety," he said.
"We call on the city to cease fire station closures and to seek solutions that don't needlessly impact public and firefighter safety. We are more than willing to sit down with city officials to help find those solutions."
In a news release, Eeles encouraged citizens to reach out to city councillors and to the mayor to "demand fast and effective emergency response levels," and he stressed citizens should exercise extra caution with fire safety in their homes.
Recently retired firefighter and former OPFFA president Ian Nicholson echoed Eeles's concerns.
Overtime, he said, has "always been there" in the past to help meet any staffing issues that arise.
"I want the public to know that this is absurd. You've got unmanned stations with a $700,000 truck sitting idle that nobody's going to drive," Nicholson told OrilliaMatters.
"Someone has to make a decision: Do you want to push life, safety and property backwards to save a million dollars?"
Many of the city's day-to-day operations are managed without input by city council — a point Nicholson wanted to make clear.
"The taxpayers of Orillia need to understand that someone's doing this behind their backs, (and) the only reason I know about it is because of my position," he said.
Though the city has 40 full-time and 20 volunteer firefighters, Nicholson said it can be difficult to rely heavily on volunteers to respond to calls as most have full- time jobs, which can also contribute to response delays.
He also pointed out Orillia does not have a minimum mandated staffing requirement for its fire department — something the union has pushed to have for years.
"Every year, we have pushed for minimum manning as a safety factor for the firefighters that are on duty that risk their lives every day," he said. "Other fire departments across Ontario, most of them have a minimum manning clause in their contract. Orillia refuses."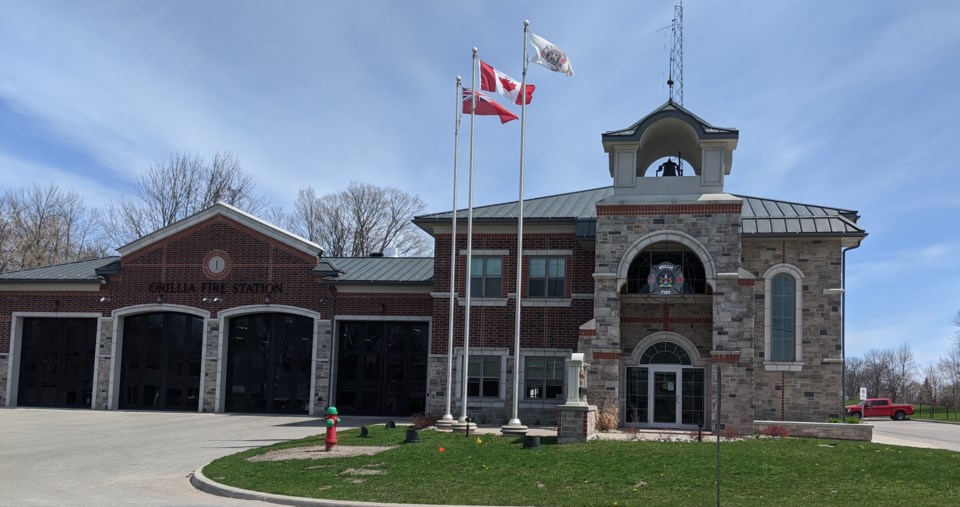 Fire Chief Michael Clark said 10 of Orillia's 40 full-time firefighters are assigned to each shift, and Fire Station 2 can operate with three firefighters on duty. Below that threshold, or if there is only one captain on duty, the department operates solely out of Fire Station 1.
Clark said it is not unusual for firefighters to operate out of one station, like what happened from Aug. 10 to 15.
"It is common in certain situations that one or both stations may not be available to the public or staffed by firefighters. This can include staffing allocations, vacations, training, fire calls, etc.," he said in an emailed response to OrilliaMatters. "The suppression division has experienced reduced staffing levels due to illness and pre-approved employee vacations."
However, he said, the city is safe, nonetheless.
"The community is well protected through our complement of the city's full-time firefighters, the team of volunteer firefighters and the mutual aid agreements with our neighbouring fire services," he said.
The city did not answer direct questions from OrilliaMatters regarding its changes to the fire department's overtime policies, nor did it disclose who made the decisions.
The city also neglected to address the public safety risks OPFFA officials mentioned. A city spokesperson issued the following statement:
"There is no minimum manning clause and no requirement to operate fire suppression teams from two stations," said communications manager Melissa Gowanlock.
"As with every emergency service, there are times when there are reduced staffing levels due to sickness, vacations, training, fire calls, etc. When this occurs, the firefighters will respond as a team from Fire Station 1 as required. The city is well protected."
Firefighters raised their concerns with Mayor Don McIsaac and council in an Aug. 16 letter.
McIsaac did not answer requests for comment in time for publication of this article.